Okay, maybe chaos is a bit of an exaggeration, but believe me, the only time my house is truly quiet is when everyone is asleep. If you have kids you know what I mean!
I get a bit overwhelmed by noise at least once a day. I can concentrate on things fairly well if I want to, but sometimes I think I am concentrating only to discover that I am not even close.
For example: a few months ago, I designed and knit a vest for the Unique Sheep. I thought it turned out really well! (After 7 weeks of knitting, and having to rip out 10-13" 3 times) I even had my BIL take pics of it, see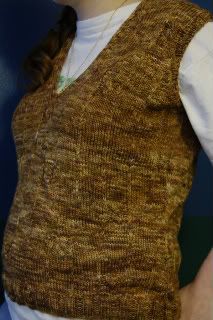 It was great! So I sent it off, and then my pattern was given to a test knitter. I was shocked at how many alterations had to be made to the pattern. Seriously, I was the designer, and I hadn't even gotten correct gauge!!!! (If you knit, you know how nuts that is--mega errata) Ok, so that was because I neglected to wash and block the swatch. I should know better than that. So it turns out that the size medium vest I knit that fit me so well, will probably be a size xxl when it is washed and blocked. Oh well, we got it fixed. The pattern is good now. I know because someone
else
knit it up and it turned out lovely.
I figure I can have a little grace for having so much to fix in the pattern. After all, it
is
the very first pattern I've ever intentionally done to sell it. And, well, a picture is worth a thousand words.....this is a
normal
and somewhat
calm
day in my home:
BTW, you will be able to find the (corrected) pattern for Random (the vest) at Laura's shop, the Unique Sheep, at
http://www.theuniquesheep.com/home.htm
very soon.